Mr. Prakash
Chennai, India.
Breed: Rottweiler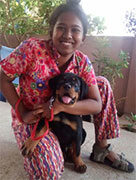 A big thank you to Woodstock, Rangarajan Sir and sharmila for helping train our rottweiler, Royal. He was 3 months old when we started his training and we are happy to say that we can see an overall improvement in his behaviour and habits. No force or harsh treament toward our pooch was what pleased us more. He has learnt commands like Sit, Stay, Down and does Recall very well. His heel walk is perfect and he doesnt pull us during walking time. Thanks to Woodstock he is active and at the same time highly obedient furry friend . We'd recommend Woodstock to all our friends out there who want a wonderful, obedient and an ideal companion.
Ms. Vaishnavi
Chennai, India.
Breed: Indian Dog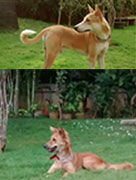 Woodstock has been amazing in understanding and appreciating our dogs' personalities, and we appreciate the trainers' care in putting together a schedule that suits each the best. From respecting the dog's identity to bonding with great ease, their commitment and enthusiasm has been exceptional. We also admire how every session started in time, and how the trainers communicated promptly, making the process easy and pleasant. Thank you Sharmila and Rangarajan Sir for being a part of our family.
Mr. Suhrith Parthasarathy
Chennai, India.
Breed: Labrador Retreiver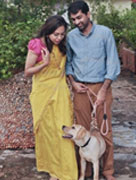 The staff and team at Woodstock helped us immensely with training our Labrador, Fergie. She was 5 months old when she started training and the trainers did a great job of teaching her the basics like sit, stay, down and recall. They also taught us the proper way of walking her. Not once was force or coercion used and they were incredibly professional and gentle in the way they handled her. A well trained dog is a wonderful companion and thanks to Woodstock, our furry darling is a joy to be with!
Mr. Jabez Azariah
Chennai, India.
Breed: Rottweiler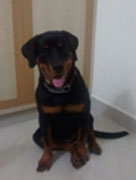 It's a privilege to have this opportunity to know and write a few words about Woodstock training school, Chennai run by renowned dog expert Mr. Rangarajan.
To start with, I had dogs in the past and always wanted to have a good trainer who is not running the job for money rather be a knowledgeable person in handling and training the dog. In the past, I had some bad experiences with trainers from other organizations who not only cheat but also ill treat my dog. This really offended myself and my family.
As years moved on, we got a rottweiler pup which was about 2 month old. We then decided to have a good trainer to handle our Rotty girl. We used to watch lot of Caesar Milan shows and we were thinking to find a person like him to train our girl. Through lot of searches and references, finally we landed at Woodstock knowing Mr Rangarajan and Caesar Milan are part of the same association.
After initial talks, we were impressed with the schedules, training methods and also follow ups through video, WhatsApp groups. We immediately got our dog enrolled for the training with them. The staff, Mrs Sharmila who is a certified trainer from Woodstock was proficient in handling our dog and training her. The team was flexible in days and timing during the course based on client's schedules. Not only should I mention this, they also trained us on how to handle dogs and get the best results. Mr. Rangarajan's personal visit to meet and check on our dog was a highly commendable act.
I am happy to have a fully trained dog by Woodstock and my heart felt thanks to our trainer Mrs Sharmila for her continuous support and guidance.It is a pleasure knowing and working with Mr Rangarajan from Woodstock and his team. My best wishes to you and your team in all endeavors.
Mr. Chandramohan
Chennai, India.
Breed: German Shepherd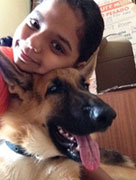 Woodstock has trained our pet German Shepherd, Dusky. Woodstock has taken lot of efforts in understanding our dog's personalities, and coming up with a schedule that suited him the best. There has been a great improvement in Dusky's general temperament after the training program, he walks very well on the leash without pulling and also up and down the stairs without pacing. We were happy with the prompt communication by the trainers throughout the training period. We thank Woodstock team for their guidance throughout the training program which has helped us in having a wonderful companion.
Mr. Rajagopal
Chennai, India.
Breed: Doberman Pinscher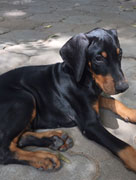 Its been only a few months since we have known Woodstock. Our Vet, Dr. Mathew C John referred us to Mr. Rangarajan to train Gypsy, a male Doberman pup about 5 months old(now a year old).
Gypsy was a very naughty pup initially but after training him in basic obedience he is well behaved. It was a beautiful experience for us to watch the Woodstock team train Gypsy. Now we can take him for long walks and also our kids love playing with him everyday. We are very happy with Woodstock and definitely recommend them to our family and friends.
Annapurna
618 N. Cuyler, Oak Park
ILLINOIS 60302
USA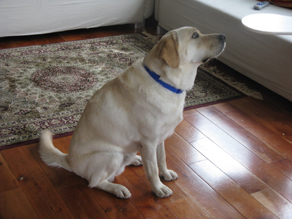 We did not intend to get another dog.
Our beloved companion, Buddy – a chocolate Labrador, had to be put to sleep in February 2008. We didn't think we could go through that again.
My husband Chander is impulsive and, sometimes, lets his impulses get the better of him. In May 2008, Chander returned from a driving vacation where he had met up with a school mate in Canada. Chander was very impressed with the wonderful bread he was served every day. On inquiring about the bread, he was told that it was homemade and they made it every day.
Well, you can guess what he wanted to do. On his return, he was on a quest for a bread making machine. In the past, we had both given in to our impulses for appliances – and we had several that were used for a few weeks and then carefully stored away with the intention that they would be brought out when we needed them. Well, as they say, "Out of sight, Out of Mind". We have several of these appliances in storage. I was against adding to this. So, I told him he couldn't get a new bread making machine. If he really wanted it, he could find a used one that was in someone else's storage and buy it, so we could eventually put it in our storage.
Dr. Ramesh
Chennai,
India.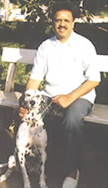 Maintaining a dog and imparting necessary training to pets for proper behavior & execution of instruction is highly important.These unique services are provided by Woodstock.
Our dogs, a Doberman, Dalmatian & Labrador were all trained at Woodstock. So we have no difficulty in handling them.
We are highly grateful to Mr.Rangarajan for getting us a good breed of dogs and also sending caretakers from Woodstock. Caretakers not only trained but also bathe the dogs. The caretakers took great care of our dogs and we are especially thankful to Mr. Pandian for this.
But for Mr.Rangarajan's help & guidance our dogs would not have participated in the Dog show.
I highly recomend Woodstock Dog Training School to all dog lovers to groom & befriend their dogs. Dr.D.Ramesh
G.Krishnamani
Shreyas,
Plot No.2, Thiruvalluvar Street,
Pallinkarnai, Chennai - 600 002.
India.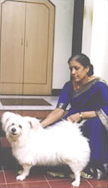 We have a pet dog called FLUFFY. It is a male Lhasa Apso, white in colour. He has been with us for the last six years. We picked him up when he was a 35 day old puppy. Very soon after bringing FLUFFY home, we contacted Woodstock Dog Training School, and had a detailed discussion on the various facilities that they provide. FLUFFY was put on initial training and grooming by the personnel of the training school. He was taught to obey short commands that he learnt quickly. To date he is an obedient pet. FLUFFY has very hygienic habits and never dirties the home. He always ensures that he is taken out for his daily ablutions. The grooming schedule for FLUFFY is taken care of by the Woodstock Dog Training School. A visit by their employee every fortnight ensures that FLUFFY is well groomed and kept clean. A regular brushing of his fur and cleaning of his ears and toes ensures that there are no ticks or fleas on him.
We have been very satisfied with the grooming and training provided by Woodstock Dog Training School for our FLUFFY.
With Best Wishes,
G.Krishnamani.
Dr.S.Rajendran M.S. (General) M.ch (Plastic)
Consultant: Plastic Surgery, Fasio Maxillary Surgery & General Surgery.
142, Royapettah High Road,
Chennai - 600 014,
India.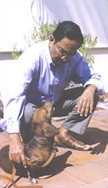 The Wood Stock Dog Training School and its president Mr. J. Rangarajan is known to me for the past fifteen years.
This institution is very good in training all varieties of pet dogs for domestic; police; and company and factory security purposes. Mr.Rangarajan's basic principle is training them by kind commands and not by beating them; as done in some other centers.
I am glad to hear their global operations and the launching of their separate website.
I have personally benefited by them,having trained two of my pets at Woodstock.
I wish them all success.
Dr.S.Rajendran.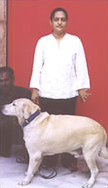 Nalini Pandey
20, Greenways Road,
Chennai - 600 028,
India.
I have used Woodstock Dog Training School since 1997. I am very happy and satisfied with the training and grooming they have provided for my pet. Pedro my hubrador is in excellent condition and very well house trained. He is seven years old.
I have recommended Woodstock Dog Training School to many of my friends.
Nalini Pandey.
Madrita Enterprises
R.Madhavan & Sarita Madhavan
No.7, Vasu Street, Kilpauk,
Chennai - 600 010,
India.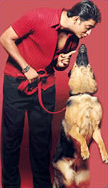 Woodstock Dog Training School has been assigned by us the job of obedience training and grooming for our pet dogs namely Princess (German Shepard) and Simba (Chow Chow).
Both Princess and Simba completed obedience training and we are continuing the grooming programme for both the dogs with Woodstock.
We are happy and satisfied with the Training and Grooming services and the care taken by M/s.Woodstock Dog Training School, Chennai for our dogs.
We wish them all the best.
R.Madhavan & Sarita Madhavan.
Navalchordia
"Kamala" 22/1,
Pycrofts Garden Road,
Chennai - 600 006,
India.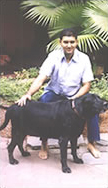 I would like to inform you that I am satisfied with the dog grooming done by Woodstock Dog Training School.
In the year 1997, I had taken up a contract on a trial bases with them. Being satisfied with the services provided by Woodstock Dog Training School, I have continued their services since then.
I wish them all success.
Navalchordia.
Mrs.Lalitha Kalyanaraman,
Chennai,
India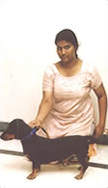 Woodstock has trained and groomed our pets Krishna (spitz) and Bitter (Dachshund).
Both of them are well trained by woodstock professionals.
We are happy to continue their grooming services for our pet dogs.
With Best wishes.
Lalitha Kalyanaraman.
Brain J. Haskell
American Consulate General,
220, Mount Road,
Chennai - 600 006,
India.
Mr.J.Rangarajan, owner of Woodstock Dog Training School, Chennai, India provided obedience training for our family dog from April to June of 2001.
Skipper is a six month old Dachshund. All training was done in a very professional manner. Documentation was prepared for each training session, along with an explanation of progress, upcoming training, and items for the owner to practice in between training sessions.
My family is very pleased with the training Skipper received from the Woodstock Dog Training School and Mr.J.Rangarajan in particular
Sincerely,
Brian J. Haskell.
M.Ramakrishnan
Plot No.50, 13th Main Road, Vijaya Nagar,
Velachery, Chennai - 600 042,
India.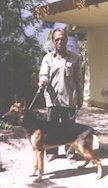 I am happy to know that Woodstock has gone overseas and you are planning to launch your website shortly, which will be of immense help to all dog lovers world over. I had taken a German Sheppard pup sometime in April 2003 and I was looking for an agency to give proper training to the pet.
As per your suggestion a training programmed module of 24 sittings with twice a week schedule, besides grooming the pet for one year period were finalized.
The trainer was found quite experienced and he gave us a number of clues and guidance in the upkeep of the pet which we found very useful. He has the skill to bring round the pet to obey the commands without punishing it.
The Woodstock representative visits our premises once in 15 days for the grooming. The pet is given a shampoo bath, ears are cleaned and nails are trimmed. Grooming the pet through your professionally skilled trainer has been found to be extremely useful in keeping the pet healthy and free from ticks etc.
The pet is now 9 months old and it is quite smart.
I take this opportunity to thank you and your personnel for your good, prompt and courteous service.
With Best Wishes,
M.Ramakrishnan.
Mrs. Malathi Sathyanarayanan
Plot No.10, 5th Cross Street,
Madipakkam,
Chennai - 600 091,
India.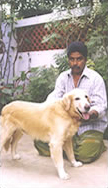 We were totally inexperienced in rearing a pup. Woodstock has been a good guide in training our dog MIKE and helped us to make him a well trained pet.
Grooming and handling the pet with care, love & affection with total dedication towards their job is another added feather to their cap.
I congratulate Woodstock Dog Training School in making their operations global and I am sure they will win many more customers by their dedicationand warm service.
With Best Wishes,
Malathi Sathyaranan.
Mrs. Sethuraman,
T.Nagar, Chennai,
India.
Our pet Goldie (Labrador) was trained and groomed by Woodstock Dog Training School. Though the training was completed some time back she is still very obedient and disciplined.
Woodstock training for grooming has helped us to keep Goldie happy and healthy.
We wish Woodstock all the best.
Sethuraman.
M.Sivaramakrishnan
11, Maharani Chinnamba Road,
Alwarpet,
Chennai - 600 018,
India.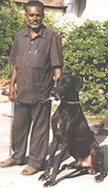 I am very happy with the services rendered by Woodstock Dog training School for the past six years in training my dog. My dog has been groomed very well and the training given is excellent.
I wish you all success,
M.Sivaramakrishna.
R.Susendra Babu
No.116, Gandhi Street,
Vivekanada Nagar,
Chennai - 600 118,
India.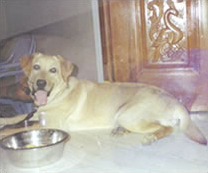 I thank you for the training/Grooming programs given to my pet dog. The dog now responds to my commands and obliges. This is the best training/grooming program. I appreciate the sincerity with which your trainer treated my pet dog. Now the dog is responding well to my gestures. I once again thank you for the services rendered by your trainer. I feel this start up training/grooming program is necessary for pet animals.
Thanking You,
R.Susendra Babu.
Dr.Mrs.Elizabeth John M.D. (Rad)
Senior Civil Surgeon
53, Palayakkaran Street,
Kodambakkam,
Chennai - 600 024,
India.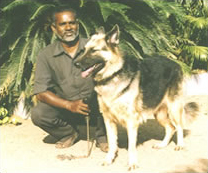 FRISKY in 5 years old. She was born on 1st March 1998. She came to us when she was 8 weeks old. Right from that time she was taken care of by Woodstock Dog Training School. They attended to the grooming as well as obedience training etc.
They come once in 2 weeks and in addition to healthy grooming, they trim her nails and clean the ears. They keep her free from tick and so far they have been doing an excellent job. We are very happy with the services rendered by Woodstock Dog Training School.
Dr.Elizabeth John.
The CP Ramaswami Aiyar Foundation
The Grove, 1 Eldamas Road, Alwarpet,
Chennai 600 018,
India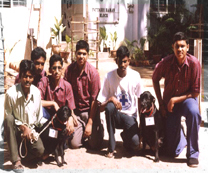 I am writing this to thank you very much for the training you kindly gave and freely, for the two dogs that have been earmarked as Dr. Dogs at the Saraswathi Kendra Learning Centre for Children (SKLC). Your trainers worked very hard and handled the dogs very well. The dogs are still exuberant, although we have sterilized both of them. I am waiting for them to settle down before they start to work with the children. We propose to introduce them at SKLC in the new academic year starting in June 2005.
It is only because of the generosity shown by the kind hearted people like you that we are to innovate and try best to help the children of SKLC.
With warm regards,
Dr. Nanditha Krishna,
Hon. Director