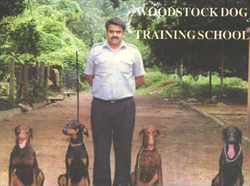 No industry in our country can boast to be one hundred percent secure against theft, pilferage and robbery. Such crimes can either be committed by an insider or an outsider. If it is an outsider's job it is most likely that the intruders scale over the compound wall to gain entry. Unless the security setup is adequate and alert, detection of an intrusion is difficult. But specially trained dogs can do wonders in curbing such intrusions. Woodstock Dog Training School is one such school which trains dogs for industrial security. A report by our Southindia correspondent M.K.Parthasarathy.
The kind of moral values we have in India today, it is just becoming impossible to find a total honest human being. Our whole system has become so faulty and messy that it is difficult to say that we are in safe hands. Human beings can be bought, brainwashed, threatened, blackmailed and corrupted but there is one species God has created which is totally immune to such things and that is a dog. Against all odds and lures he remains faithful and totally committed to his master or the owners.
In the context of industrial security, if properly trained, a dog can play a very vital role in giving early warning of an impending offence and also in keeping away offenders and criminals. For imparting training to dogs in security related work, there are a few organizations and individuals who specialise in this aspect.
Woodstock Dog Training School in Madras run by Mr.J.Rangarajan is one such school which is providing their trained dogs to many industries like Lucas-TVS, TI Cycles, Tube products of India, W.S.Insulators and many other small and big business establishments.
Dogs trained here are capable of detecting an intruder even at a distance of about 500 yards. And these dogs are incorruptible as they would not accept food from an outsider.
Lucas-TVS experienced petty thefts time and again inspire of the presence of security guards but after the induction of these specially trained dogs, the senior security officer Mr.Pattabiraman is happy that there is no intrusion now.
Similarly Major Ganapathy, Manager (Security) TI Cycles, is happy that the frequent thefts/pilferage which worried him constantly have ceased after engaging these trained dogs.
These dogs are trained very well to bite an intruder an hold him until the handler and guards take over. The biting would not hurt the intruder unless he tries to wrench out his hand from the dog's mouth.
The training is given from 6.00 to 10.00 hrs and 18.00 to 22.00 hrs. Only one dog is trained at a time so that individual attention can be given. The training is given at the respective establishment itself to enable them to make themselves familiar with the environment in which they are expected to serve.
Unlike the other dogs which only give warning or act as a deterrent or protect person or property, their trained security dog is the master of all these aspects. These dogs are capable of indicating the presence of an intruder and pinpoint the exact location no matter how well the uninvited guest has hidden himself.
A good security dog should have the following qualities:
Sound Temperament
Character
Good physique
Strong senses
Their trained dogs are fit for security work up to the age of 8 years. The output during these 8 years is immense. Economically too it works out to be very viable.
Besides, during a strike or a lockout these dogs can be useful to prevent any sabotage. And especially when the big wigs of an establishment are staying in the company's guest house, these dogs can be hired for VIP's security until the situation improves.
More than anything else, when there is such a stiff competition amongst security agencies, the rates they ask and get are very low and hence the security guards do not get adequate salaries. Under poor conditions of their existence, they are not prepared to confront an armed intruder at the risk of their lives. It is here that these trained dogs provide excellent services without any monetary gains.
Under these tricky situations, many industries in Madras have now approached Woodstock Dog Training School to induct dog squad in their security teams.