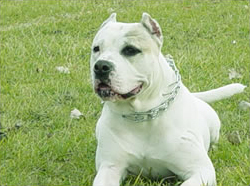 Mr.J.Rangarajan's dedication, hard work and enthusiastic love for dogs give him knowledge of the intricate fine psychology of dogs which he applies skillfully on the dogs under his training.
Mr.Rangarajan spent his initial years as a Chartered Accountant. Later he entered the sales and marketing field and became Branch Manager in one of the leading colour television companies in the country. When he had an opportunity to visit the USA, he visited leading dog training schools, and attended seminars on dogs and dog shows.
He started the Wood Stock Dog Training School in the year 1988, training dogs for industrial security apart from doing various training programmes for domestic dogs.
Mr.Rangarajan also conducts regular seminars to educate the public on everything related to dogs.
He showed us a lot of beautiful slides which had been specially made for the presentation covering the history of dogs (dating back about 40 million years). He informed us that they are 700 to 800 breeds of dogs, and showed slides of various beautiful breeds available world-wide.
The dog has been man's best friend for million of years, having been used for hunting expeditions, as a retriever of prey, as a good worker and faithful companion and for protection from enemies. Dogs are also used to guide blind people in day-to-day activities including road-crossing.
The Bull Terrior is a hater of all animals and was used for dog-fights until they were recently banned all over the world. The Greyhound is one of the fastest runners and the Bloodhound can sniff out dead bodies even from a distance of 30 to 40 miles. The mastiff has a large head and weights, up to 200 or 250 pounds.
Dogs make wonderful companions and guards, and all of us love to have them as pets. However, it is necessary to train them to make it easier for us to live with the dog and vice versa, whether the dog is meant merely as a pet or a watch-dog or for display at dog shows. Dogs are very good learners and an effort of only about 10 minutes in the morning and 10 minutes in the evening is required to toilet-train dogs and to train them not to jump on people, bite clothes etc., and to do a few interesting tricks.