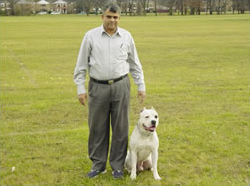 With business establishments paying increasing attention to the security angle, specially trained dogs are becoming an important part of security arrangements alongside metal detectors.
Lucas-TVS and TI Cycles are among the business houses that have opted to introduce dogs that could guard against intruders and prevent petty thefts.
Says Pattabiraman, senior security officer of Lucas-TVS, "There used to occur some petty thefts inside our factory premises a few years ago. So we thought of bringing in these security dogs. Now there are no intruders."
"These dogs would bite any person at our ordering. So people are afraid to come in. Seeing our dogs in action TI Cycles too wanted to have one," he added.
"We have got 10 dogs now in our factory deployed at different places. Rangarajan comes here twice a week to train the dogs," he said.
The Woodstock dog training school at Injambakkam is now the focus of attention on just this count. Run by trainer J.Rangarajan, the "Woodstock Kennels" accommodate several breeds of dogs - Labrador Retriever, Dachshund, Fox Terrier, Beagle, Spitz, Great Dane and Dalmatian. There are nearly 25 dogs in the kennel undergoing training in the school.
The training is from 6 am to 10 am and 6 pm to 10 pm. In the initial stages of training, these dogs are able to concentrate only for about 15 to 20 minutes, but their concentration increases subsequently," says the trainer. "We give training to only one dog at a time as otherwise their ability to concentrate would be adversely affected. The dogs can be trained to detect an outsider even at a distance of 500 yards."
But it is not as if dogs of all breeds can be put through such training. "Only Labrador, Doberman, German Shepherd and Rotweiller can be imparted security training. Whippets can only be used for dog racing which is a popular sport in foreign countries."
The dogs are first given basic obedience training through which they would be trained to obey commands like 'sit', 'stand', 'down stay', 'head walk', 'come', etc. After this they are given security training and taught to detain strangers by holding on to their right hand. "A dog can be completely trained within 6 months."
The training is given at the establishments so that the dogs are acquainted with the environment in which they have to serve. The cost of training depends on the jobs the dogs are expected to do. While the minimum cost is Rs.2,500 if the dogs are merely given basic obedience training, the maximum could be around Rs.20,000 for sniffer dogs. Although the life span of a dog is 12-14 years, the security dogs can do duty for not more than nine years, "It is better to have them replaced every eight years," Rangarajan said.