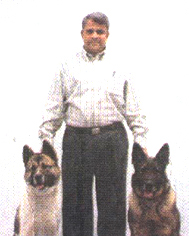 Chicago: Dog is man's best friend and there are several instances in history that dogs have saved lives of their masters. Dogs have come to the rescue of their masters during distresses. A dog is not only protective of its master and his family, but also very possessive of them.
A trained dog is a great asset to not only its masters but the whole neighborhood. It protects the area it lives in. the great trait of faithfulness of dogs is being made best use by in several ways by human beings. Besides dog being a pet, its services are made use in crime, bomb and drug detection. It also acts a guide and companion for visually impaired people. In all modern countries, the defense departments have special wings of security dogs for various operations, including protection of soldiers.
"Training a dog is both an art and science," says J. Rangarajan, president of Woodstock Dog Training School, and Vice-President of Magnum Security and Investigation, both located on Milwaukee Avenue in Chicago.
Rangarajan, who hails from Chennai, India, has been the first one in his home country to venture into training dogs as a full-time profession when such a profession never existed. If fact, he says, people wondered how one could make a living by training dogs, which is the least priority of any-body.
Speaking to India Tribune, he says, he has broken that popular myth and became a pioneer in taking up dog training as a profession in India. He has been training dogs and imparting the skills of dog training to those who want to be dog trainers.
Asked how he developed an interest in training dogs, he says that basically he comes from a dog-loving family and he has taken special interesting training them since his childhood. "I started training dogs from my very young age and it developed as I grew up. At that time my inspiration came from the Railway protection force Dog Squad at Trichy where there were four trained dogs and they performed many tasks as their handlers wanted them. That is where I got hooked into serious training and those handlers and their trainers taught me the basics of dog training."
He says that in 1988, he became a full-time professional and stared the business under the name Woodstock Dog Training School in Chennai. Probably, he says, he was one of the very few in India to venture into this profession. Acquiring skills in training a dog is an ongoing process and now even after more than four decades of experience, he is still learning. "Each dog is different from the other. I use a lot of innovative techniques in my training and this comes because of my constant thinking about solving behavioral problems of the dogs," he adds.
Asked what are the benefits of training one's own dog and what different kinds of training one can give to it, Rangarajan says: "First of all the aim is to make you happy to own a dog that obeys and follows your commands. A trained dog is a happier dog simply because it knows what is expected of it at all times, leading to a greater rapport between you and your pet, plus a total trust and control. You become a relaxed confident owner and your dog becomes a relaxed confident pet. Woodstock Dog Training School's basic obedience training program imparts training ideal for household pets. This program teaches the dog to obey give basic commands – to walk in line with your left knee while on leash; sit; lie down; stay or remain at one spot until a command is given to move; and to come to you when called. With these basic obedience training, your dog will become a good canine citizen and you can be a proud owner."
He says that Woodstock also specializes in training dogs for industrial security. The areas of applications are almost limitless. For example, specially trained dogs can be deployed at factories, godowns, banks, estates, parking garages or any such places where security is needed. The security dog uses its power of smell to detect intruders even in a large area. The dogs are trained to chase, arrest and hold an intruder until the handler takes charge. Sniffer dogs at exit points can detect smuggling out of valuable raw materials. These dogs are specially trained to accept food only from their handlers or trainers. Therefore, Strangers cannot lure them with food.
Asked if he follows standard training procedures for all dogs, Rangarajan says: "I do not follow any standard training procedure because each dog is different in many ways and so the training methods also differ with each dog. Of course all the training techniques are based on positive reinforcement and reward orientation. Just like human beings, dogs also differ in various aspects like temperament and disposition. We come across shy dogs, aggressive dogs, and high-energy dogs. Therefore, the training has to be tailor-made for each dog."
Stating that every dog is trained, though the length of time it takes to train them may differ, he says that the pups are easy to train in comparison to adult dogs. "Pups are wet like clay and so they are very to be moulded and the adult dogs may take more time to be trained. A trainer can guide an owner how to handle his or her dog. But it is for the owner to put the training into practice and give the exercise to his or her dog. No results could be achieved without following the training exercise," he adds.
He was licensed by the Kennel Club of India to judge obedience trails in 1988. He was trained to be a dog show judge between 1986 and 1988. He has been continuously judging dog shows since 1988. Though he was migrated to the US in 2001, he frequently visits India to judge dog shows. "I have judged almost at all the centers in India," he adds.
Asked what the scope for others to take up dog is training as a profession, he says that dog industry is a business of several billions of dollars in this country, and it is growing at a fast rat. There are many branches to it which deal with dog food, training, grooming and day care There is a great demand for veterinary professionals from dog owners. There is constant demand for quality trainers, and a person, who has a right aptitude and attitude towards dogs, can make a mark and look for a comfortable living, and can be his own boss with flexible timings. There are several schools that offer professional courses for people who want to become dog trainers.
Rangarajan is a veteran at dog training and during his four-decade career, he has trained over 4,000 dogs for a variety of purposes. His vision is to inculcate the knowledge of training dogs among the canine lovers to put the man's best friend to the best use of humanity. From his base in Chicago, he is well on his way to converting his dream into a reality and make the world a more secure and happy place to live in.
Rangarajan is a member of several organizations, including Association of Pet Dog Trainers; International Association of Canine Professionals; The Madras Canine Club; The kennel Club of India; and American Society for Industrial Security. He is also a member of the prominent National Association of Chiefs f Police, USA.
Recently he has been approved by the American Kennel Club to be an evaluator for their Canine Good Citizen Program.
Besides owning Woodstock Dog Training School, Rangarajan currently heads the Canine Division of Magnum Security and Investigation, Inc., Chicago, as vice president.
For more information about Woodstock Dog training School and Rangarajan, please call him at (773) 286-9774; 1957; fax (773) 286-9774; send e-mail to ranga@woodstockdogs.com or visit website www.woodstockdogs.com