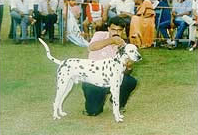 In the pressure-cooked political events, from campaigning to cabinet making which affected our day to day life for the past few months, an important ingredient that was missing was loyalties. If at all a trace of it was there it was more (alloy) alties. I therefore wanted some relief and decided to be among the quadrupeds for which loyalty is the credo. It was nearly forty-five kilometers away from Chennai. You must be wondering why this botheration, for the moment you step out of your house in any part of the city you come across packs of dogs like their wilder cousins in either Discovery or National Geographic channels. There is an outfit called Woodstock (reminds you of Jazz yatra?) where industrial security guard dogs are trained for being provided to various industrial outfits. This is situated in a place which is already famous as Mecca for Vaishnavites (I am one of those secularists of Indian brand) being the birthplace of the great philosopher saint Ramanuja, the author of Vishishta Adhvaitha philosophy. Also this place is famous comparatively, as a place of pilgrimage in recent times for politicians who go to pay homage to Rajiv Gandhi's memory for he found his martyrdom here.
This kennel is situated in a one-acre block surrounded by tall and swinging casuarina trees on the Sriperumbudur-Arakonam road. Rangarajan, who started this outfit in 1983, accompanied me and from the gate to the kennel it is almost 200 metres in distance. As we entered the kennel that had a central passage and cells on either side numbering nearly ten, I was reminded of the Hollywood movie about the famous Alcatraz penitentiary. Each cell was secure with enclosures made of iron rods and the moment we reached the place all hell broke loose and there was a virtual babel of deep-throated bark from a variety of breeds like Spitz, Doberman, German Shepard, Whippet, etc.
Mr.Rangarajan realising that I was finding it difficult to communicate with him vocally gave a command and there was an eerie silence instantaneously. Was he Merlin the magician of the famous King Arthur's court to have converted in one stroke all the breeds into Basenji the only bark-less breed from South Africa? In the course of the discussion with him, I could gather that the genesis of such a setup dated back to his school days. As a resident of the Golden Rock Railway Workshop colony, in Trichy, he had many a time seen the railway protection force dog squads being trained. He used to come back home and impart the same training to the mongrel he had. When in a matter of month or so this mongrel was able to do whatever the privileged counterparts of his in the RPF dog squad did, Rangarajan gathered confidence than just a sense of satisfaction. After his graduation and a short stint as Regional Manager with Videocon he went to visit USA ostensibly to look up his brother. The ulterior purpose being to visit some famous kennels and dog schools there which he did, and returned with lot of material to translate his desire into action. And Woodstock was born.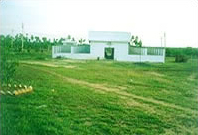 The main activities of Woodstock are:
Providing industrial security dogs
Imparting training for domestic dogs
Conducting seminars with reference to dogs role as a pet and a guard
Providing lodging facilities to the members of Woodstock for their dogs whenever they go out of station.
Dogs for security in industrial outfits are provided with a handler and their role is complementary to the conventional security guards. According to him, even petty thefts and pilferage in such industrial outfits have come down remarkably with the introduction of a dog squad. This system is catching up quite fast in industrial circles and some of them like TVS and TI group have their own dog squads based on Woodstock's Consultancy services. And others who do not prefer to own their dogs get this facility from Woodstock, which is the only one of its kind in TamilNadu.
Similarly, on the domestic front, he and his handlers train the dogs at the owner's premises for basic obedience, like heel walk - by which the dogs are trained to walk close to the left leg of the owner either with leash or without leash. This is quite important as many a times in the walking circuit I have found dominant dogs pulling and straining at the leash making you wonder who is who at either end of the tether. Similarly, when a guest comes home where there is a dog it is a common sight to see the dog jump at the guest, though out of affection, soiling the dress and spoiling the mood in the bargain. Woodstock teaches them to stay at the command of the owner. Another very important training they impart to domestic dogs is not to accept food stuff from strangers which is normally the trick adopted by burglars (I wish there was similar training for train passengers in the aftermath of biscuit bandits).
Woodstock also undertakes grooming of dogs at their premises. Mr. Rangarajan is quite confident that his outfit will be of good service in not too distant a future with the population of dog lovers increasing steadily duly aided by the spurt of thefts and burglary.
I asked him why he has this facility at a distant place and not in Chennai to which he quipped, "City residents have still not reconciled to let barking dogs bark". Although his outfit like kennel is in Sriperumbudur he has a well-equipped office in Chennai functioning from 22, Saravanan Street, T Nagar. Ph # 432 1489. He and his handlers are readily available for the above mentioned requirements of dogs. In a matter of speaking, he is perhaps the dog's best friend around town. He is a longstanding member of the Kennel Club of India and has been a judge for the obedience sector in various dog shows throughout the country. His knowledge on dogs is encyclopedic and what impressed me was the innovativeness with which he approached matters relevant to the subject. For instance, for security dogs conventionally it has been the preserve for German Shepard and now the Doberman. He has been experimenting with Dalmations which he is very confident will soon occupy the place of Dobermans.
I am sure with more outfits like Woodstock, dogs will find the world a better place.
T.L.Raghavan