Interview with Sandra G.Hunter, the famous Doberman Breeder, BRUDA DOBERMANS, Illinois USA.
Interview Date : 27th March 2004
Interviewed by : J.Rangarajan, Woodstock Dog Training School, Chennai, India & Chicago, USA.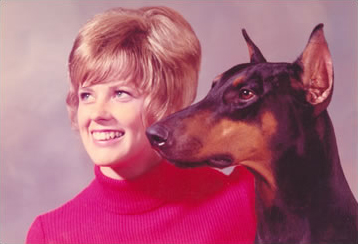 Sandi with her first Doberman "Bruda Bonny Miss"
Sandra G. Hunter who is popularly known as Sandi has been breeding and showing Dobermans for well over 35 years. I had the privilege of meeting her last year and ever since had some fantastic sessions in talking dogs. I admire the vast knowledge and experience this lady has and now through this interview she is sharing a lot about Dobermans, their breeding, their showing and much more. I am sure the Doberman fanciers will enjoy this as much as I did.
Sandi lives with her Dobermans at Deer grove, Illinois , which is about 2 hours, drive from Chicago . The place she lives is a beautiful countryside and it is like heaven for dogs since they have so much space for themselves. Further, Sandi need not worry about the dogs barking because there are hardly any neighbors. On Saturday 2ih March 2004 I left home by 7.30 am and it was a murky day with high winds. After traveling 120 miles I was at Sandi's place around 9.45 am. She was busy attending on to the recent liter and after a while we settled down for this interview. For next five hours we were totally engrossed in the 'Doberman world', never realizing how the time passed by. Here is Sandra G Hunter :
J.R. : When did you get your first Dog and what breed was that?
Sandi : Well my first dog was probably in 1962 and it was a Poodle. I had asked my parents for a Doberman and they said "NO" since they feared the Dobermans kill people and so they bought me a poodle.
J.R. : Can you tell me how you got interested in Dobermans and how and when did you get your first Doberman?
Sandi : Yes, I had seen a Doberman when I was a little girl, about 9 years old and that was at horse show. I thought it was the most beautiful dog I have ever seen and it was really a great dog. It was protective, and it was not coming up to strangers. I was very impressed with that dog. As I said my parents were reluctant to buy me a Doberman. They said they would buy me a show dog and it was a poodle.
J.R. : Sandi, did you win with the Poodle?
Sandi : I tried to show him, but this dog was not from a great conformation line and we did not win much. He did have some champions in the bloodline but the dog was not very good. Then I did some obedience training with him.
J.R. : Was it a standard poodle or miniature or what?
Sandi : It was a black miniature poodle.
J.R. : So was this your first experience with the dog or your parents had dogs when you were younger?
Sandi : Yes we always had some farm dogs and we had one pure bred Chihuahua, which was my mom's dog and used to be on her lap all the time.
J.R. : Coming back to Doberman, when did you get your first Doberman?
Sandi : It was in 1967 I got my first Doberman. These people were from Peoria . I think it was their first or second liter and I took the pick of the litter a black, bitch and this was my first Doberman and she was named Bruda Bonny Miss. The dam was not a champion but had some excellent pedigree and Ch Marks­Tey Roddy of High Halo sired her.
J.R. : Did you do any winning with this dog?
Sandi : She was a pretty good moving dog with a fine head and neck, but she did not have enough body. She was rather tall, refined in bones and she was a powerful mover, which was her strength. Probably my passion for good moving Dobermans originated from her. Unfortunately she never finished her championship.
J.R. : Did you breed Bonny Miss?
Sandi : I bred her two times and we had some minor success. A few of the pups finished in the second or third generation but we started getting into some health problems. Also my earlier dogs were very good with people but they fought with other dogs. I had some pretty bad dogfights and got hurt myself. One time I had a finger tip bit off and was off work for seven months. With the health issues coming up I decided I needed to buy something different. So I sprayed and neutered all that I had and started with new dogs with better quality and healthier lines.
J.R. : Have you had more success with the males or the females? Can you tell the reasons?
Sandi : The dogs in my particular line seem to be better than the bitches. They are bigger, stronger and always very sound movers. Not that my bitches are not pretty and sound, I just like the dogs quality better. I have finished quite few males over the years and in general my males are better than the females. I love the girls, but the boys are my pride.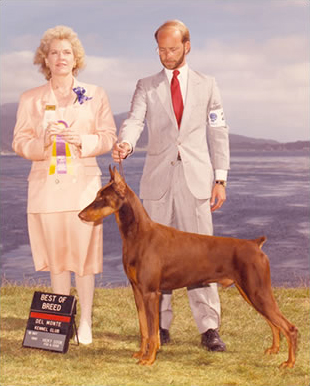 "Best of Breed" - CH Bruda Teller of Tales
With handler Andy Linton
J.R. : When breeding do you set goals every year or how exactly you plan your breeding programs?
Sandi : First thing it depends on the availability of stud dogs and now with the entire health test we do it's not easy to find the right stud for each bitch. I finish most of my bitches before I start to breed them. I do not like to breed more than 2 or 3 litters in a year. Though I have had more than that in a year but that's spread out. In the early years it used to be only one or two litter every year or two, as I was working full time. I used to get only a few weeks off to raise a litter. Now since I am a retired rate clerk (for a trucking company), I have more time and sometimes I do whelp a liter or two for my friends. Of lately I have had too many good bitches to breed, because of their age, I have had to have more litters then I would like.
When it comes to goals I think everyone wants to breed the number 1 dog in the country or have one in the top 20 dogs. That is always behind dog persons mind. I think my biggest dream or goal is to breed the number 1 stud dog in the country, even though I have bred 2 top 20 dogs and 2 all breed top winning Dobermans in the country. Ch Bruda Teller of Tales was the top-winning dog in the country in 1992. And Ch Marienburg Repo Man was the top winning Doberman and top winning working dog in 2002. What you may not know is Repo Man is a Teller grandson and won the same honors as his grandsire Teller exactly ten years later.
J.R. : Among all dogs you have had, which one you think was not only the best but had a lot of influence in your breeding?
Sandi : That has to be CH Bruda Teller of Tales. My only regret is that I did not have enough bitches to actually breed to him. At that time when he was young enough to be bred and we were campaigning him it was hard for me to get to him. Andy Linton who was one of the top professional handlers in the country showed him. Andy did not like me to be around the dog at shows because the moment Teller saw me he went crazy. So it was very hard for me to get to the dog and to breed to him. At that time I was living in Illinois and only had two or 3 bitches - one was over the age and the one which I really wanted to breed to him never got bred to him. Probably this is one of my very big regret and I think I did not have the best of him in the progenies I had because like I said earlier I did not breed to him that many times. But still I have done well and you can see the Teller influence in his grand kids and his great grand kids when we hear the Judges say "my goodness that dog moves like a dream, he covers the ground, his timing is good" and there you see the Teller influence. I was showing a Teller great grandson this last year and had a couple of handlers and judges tell me they had not see a dog move that good since Ch Bruda Teller of Tales. That was a great compliment.
J.R. : Can you tell me which year was this and can you talk about his show record?
Sandi : Teller was a dog I bred and born in 1988. When Teller was only 5 weeks old I knew that he was special. At that time I lived in California and I used to put the pups in the front yard and watch the liter from the window. While all the puppies will be running around, Teller would never break into a run he would always trot everywhere and he could trot as fast as the others ran. As a puppy, Mary (Mary Rodgers of Marienburg Kennels) had taken Teller into her home as a favor while I was in the hospital.. She was so impressed with him and wanted to buy him. But I told her I was not selling him but would give her half ownership, so that is how we came to co-own him. She had Andy show him and he quickly finished as a puppy and had a lot of sweepstake wins. I think he won two or three majors in the puppy class. I thought it would have been better to hold the dog back for a while because there were a lot of top Dobermans competing out there and Teller did get into the top 20 in the first year, and he was just a baby. Teller was hardly 15 months old when he won the Best of Breed at the Westminster and at that point of time he was the youngest Doberman to win the Best of Breed at Westminster . Andy was showing him for almost 2 yeas and he was behind Ch Brunswig's Cryptonite for a year then Cryptonite retired and Teller became the number one Doberman in the country that was 1992.
J. R. : Sandy you told me that Dexter was Teller's sire? Can you say something about Dexter?
Sandi : Dexter was an import, which Mary Rodgers brought into United States from Netherlands . (DUT.IMP.CH.DEXTER V FRANCKENHORST). I had seen a litter of puppies sire by him and was very impressed. When I went and looked at Dexter I was very happy with him. He had great strong bones, the ~nd of bone you want on a male thick and round, and good coloring with the darkest markings and eyes I had ever seen. I knew he was the right dog for my bitch. He was a true Doberman, a great dog and all male. May be he was 28 V2 inches; big beautiful dog, and was a black/tan dog.
J.R. : Did he do a lot of winning in this country?
Sandi : Mary imported him as a puppy. He was shown a few times and he was looking so different from the American dogs being shown. The dogs, which were shown in the early 80s, were high stationed and straighter fronts and rears. He was a very good producer and gave a lot to our breeding program in this country. I was satisfied in what I got out of him and I still see his influence in many of my dogs. He also sired many other champions and big winners for Mary Rodgers and Cheri Holmes. Cheri's dog Ch Holmrun's William Tell was a Best in Show dog in Canada and Teller who was my best Dexter son sired him.
J.R. : I am aware you are co breeding with Mary Rodgers and how is the breeding program going on between both of you? Are you both still continuing to work with each other? Are you both long time friends? Can you tell us about your association with Mary Rodgers?
Sandi : I had known Mary for the 30 plus years and the first time I met her was in the 1960s and we really became good friends after I brfed to Dexter for the first time. We have co-owned several dogs and we still do. We both have a great respect for each other. I personally think Mary is one of the smartest and the cleverest dog persons I have ever known. She is a very bright person and she has something inside of her that she can pick out dogs just like that. She has that natural instinct, like a lot of horse people have. My father used to say who was a horse person - either you got an eye for an animal or you don't. You can teach people everything you know but if they don't have the instinct or the eye it doesn't do any good. Mary has that instinct. I would like to think that I too have it but not to the level of what Mary has. She does many breeding separately and with others. She likes to diversify and so do I. But we both have diversified in different ways in some of our breeding programs. I almost have two sets of line and I have dogs that are totally different from what Mary has. I have incorporated them into what we breed and have been very successful in doing this. She has also brought in new blood into her breeding. Mary and I agree that, you cannot get stuck breeding only into your own line or the same lines. You have to be able to recognize what your competitor has in their lines, what is good in them, and what is bad. Then you should be brave enough to go and get the good in these lines whether from friend or foe.
J.R. : I know you were a co breeder of Repoman, can you tell us about this dog and about his breeding?
Sandi : We got to go back and let us start from here, that is Mary had a Teller's daughter that was sent out to here in Midwest and her name was CH MARIENBURG'S CORAL PENDANT and that one is Repoman's dam. She was sent here to finish and a local handler DAWN HONOKER showed her here. When she finished her championship, Mary asked me whether I would like to co-own her and breed her. At that time she had only a couple of Teller daughters and I too had only one Teller daughter and so we went into a co ownership on this dog CH Marienburg's Coral Pendant. We decided to breed this bitch to one of the dogs from Carla's Kennels and that dog's name was SKEETER. This dog had a lot of Russian breeding behind him and he was also a grandson of Dexter. Then something happened. I did not go to the Nationals at Texas but Mary went, She called me from there all excited stating that she saw two wonderful dogs which we could breed to. She said the one is CH Cambria's cactus cash AND THE OTHER ONE SHE SAID WE should definitely BREED TO IS A CLASS DOG, THE WINNER'S DOG AT THE National Show. She said it is a foreign dog and his name is NELLO'S LEX LUTHOR. She was totally impressed by this dog. Penny, that is RP's mother was a very sound, steady bitch with great head and Great temperament nice body. She was very pretty but not that flashy pretty but she had everything that you wanted in a brood bitch. I said I am excited too but she said that the dog is going to be in tnis country until he finishes his championship and then he goes back. So I said we have to breed Penny to the dog now and she was due in season a month or two so that is how this breeding happened. And we were one of the first ones in this country to breed to Lex Luther and I sent Penny to Florida to Judy King and Judy made all the arrangements. Originally I was to whelp Penny and what happened was, I had another bitch in whelp and Mary had 3 bitches in whelp and she called me one day and told me that one bitch had absorbed her pups, one bitch was not pregnant and the other one aborted the pups. She had 3 bitches and she did not have any puppies and she was disappointed. Then I told her that I can send Penny and she can whelp that litter and so I sent Penny back to Mary and Repoman was born at Mary's house. There were four pups in the liter, the other three being bitches. Mary knew right away that she was going to keep him. As she decided to keep the male and I was to get a black bitch and it was my decision to take whichever bitch I wanted and I got a black bitch named Sundae and she is Bruda's Sundae v Marienburg.
J. R. : One more question on Repoman, when did you happen to see him for the first time. Did you see him as a puppy or an adult and what did you think of him? Did you think he is going to be a big winner?
Sandi : I saw his pictures from the time he was 8 to 10 weeks old and my first impression was that 'wow' he was a lot of dog. He had huge bones, wonderful fore chest and a nice head and I was pretty impressed. I think Mary did not show him until he was about 14 or 15 months at his first show and that is the first time I saw him. That was October 1999 at the Nationals held in Fitchburg, MA. He won the winner's dog for the 5 point major at the host club. He was also Grand Prize Futurity Winner at the DPCA three days later.
J.R. : I saw Repoman in 2002 Feb at the International Kennel Club of Chicago's Dog show where he won the Best of Breed and comfortably won the group and he narrowly lost the Best in show to a flashy golden retriever. There, at the show grounds I met Mary and was talking to her for some time. I did get the opportunity to see Repoman very close and I did take some pictures of him. That is when Mary gave me your name and phone number.
Sandi : But Ranga he went BEST IN SHOW THE NEXT DAY.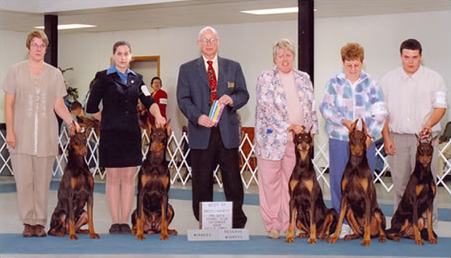 Five dogs - Bruda Dobermans
J.R. : What do you think about Lex Luther? Why people are still going after his pups? What is so special about this dog in your opinion?
Sandi : When I think of him the word 'STALLION' comes to my mind and he is a stallion of a dog. He has that superior attitude and a superior body. When he goes in the ring he demanded attention and he was a true show dog. He carried himself so well. I heard that some people talked about him being a bit nasty and all that but I personally spent some time in the hotel room with the dog and the dog was as sweet as he can be. Now if he is tough with the other dogs you bet that is part of being a Doberman. And Dobermans are supposed to be a kind of tough. Some of his kids needed to be owned by people who have more of dominant personalities or have more horse sense.
When I first got into Doberman Pinschers back in the 1960's I was told that all male will try you at some point, by growling or some other form of dominance. Eventually the male will try to see whether he can be the boss. Sometimes you might have to correct them in a forceful way to get his attention. I am not saying that you have to hurt the dog but you have to make sure that you are in control. You must be the leader of the pack or the alpha. Let me tell you Dobermans are too smart for some people.
J.R. : Do you think that Lex Luther is bred too much? Are still people trying to bred to him?
Sandi : I think actually people have slowed down breeding to him and the price wise it was getting expensive with the high stud fees. Moreover, people had to send their bitches to Argentina for breeding which is very expensive.
J.R. : Sandi, do you know about Lex Luther's breeding?
Sandi : Yes, he goes back to some of the American dogs like Marienburg line and Gold Grove line. I think he is ONE IN A MILLION DOG and you know those dogs come around once in a lifetime.
J.R. : So you think this dog took the American breeders by storm?
Sandi : I think so but there are some people who were anti Lex I understand their points and I respect their points. I think his temperament is a little tough but you know these are Dobermans and I would rather deal with the tough dog than a dog that runs the other way when I open the door.
J.R.: Do you handle your dogs or you have professional handlers show your dogs?
Sandi : A combination of both. But in the last few years I have used a lot of handlers. I used to show the dogs myself because I used to enjoy showing my dogs. At one point I even studied under a professional handler to become a licensed professional handler but I decided that life was too rough as a professional handler so I gave it up. At that point I decided if I go into business I will make more money and then I could afford to pay the handlers and that is what I did. I do still want to go into the ring but age is catching up with me and my knees are troubling me. I do go into the ring to show my puppies just to start my dogs myself. But these days I am not able to go to as many dog shows as I used to and professional handlers now finish most of my dogs.
J.R. : On this subject I have one more question for you Sandy . In our dog shows in India most of the dogs are owner handled and we have very few professional handlers. Whereas in this country I find it is the opposite, there are more professional handlers than owner handlers. How this system works? Can you give your views on this?
Sandi : I think it is pretty sad. I wish we had fewer professional handlers but the problem is because showing the Dobermans in the ring has become so competitive. You can finish dogs faster if you have a handler. It's too hard for the owner handler in the Doberman ring. Most of the professional handlers do a better job in showing the dogs. Of course there are owners who show their own dogs and finish them. Many other breeders' finish their dogs like I have done but I have been doing this for more than 35 years. For the beginners it's a lot tougher showing their own dogs, and it takes longer for them to finish even if they have a good dog. I find this a little sad because the entry fees are anywhere from $23 to $32 per show and the handler fees are around $100 per show. So for the beginners having a professional handler showing their dogs becomes an expensive deal. Still I wish we could see more owner-handled dogs in the ring.
J.R. : Sandy you think the professional handlers are better in showing the dogs than most of the owners?
Sandi : Yes, I think Dobermans especially. The Doberman handlers in this country are some of the best handlers in the world. I think they have to be because I have heard many people from other breeds say that if you can handle a Doberman you can handle any other breed. The Judge is so intent and I have seen judges standing there staring and waiting for one of the dogs to move a foot. So the Doberman handlers have to be extremely talented and you know my handler, Dawn Honaker she is one the most talented Doberman handler I have ever seen.
J.R. : You have been a member of the DPCA (Doberman Pincher Club of America) for a long time, Can you tell us about your association with them? What are the areas the club helps you?
Sandi : DPCA is our parent club. I am not a political person and so I don't get involved in any of the politics in the DPCA. I believe in it and I am happy for the people that run it. I am more into my dogs, showing them and breeding them and of course I have been a member right from the time I got my first Doberman in 1968. It is a great organization and they do help you to sell puppies, they educate people about Doberman. They have also set rules and standards for people and they have done a wonderful job. They are very good parent club.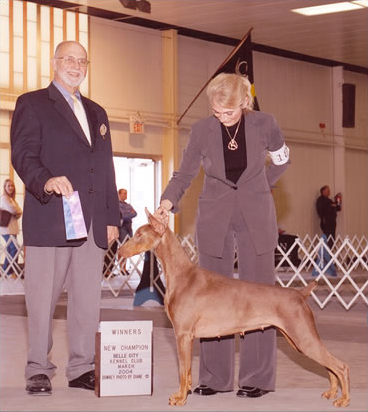 CH Bruda - I am a fawn, with handler Dawn Honaker
J.R. : So, DPCA conducts National shows at different parts of the country or what?
Sandi : Oh yes. Every year DPCA conducts a National Show usually in the first week of October and it is held in the different parts of the country. They try to spread it around but California had the most of them. East coast also had a lot of them and Texas also had many shows and I wish we had more in Midwest where we could drive. We had one at Minnesota that was about 8 years ago, you know Minnesota is about 7 to 8 hours from Chicago and that was a very nice show and we really enjoyed it. Usually these shows are conducted in nice hotels. The Judging used to be at the ballrooms. This year it is going to be at Kentucky that is about 5 or 6 hours from Chicago and I have the great honor of being the Futurity Judges, judging the juniors. I am really looking forward to that but a little nervous about it being there with hundreds of people watching. I think the show starts on ih or 8th of October and there will be 2 host clubs shows starting a week before. Wherever they are conducting the DPCA National show, local Doberman club there will do all the legwork and they usually have the big host clubs shows and with the large entry it takes about 2 or 3 days. There may be around 600 to 700 Dobermans. There are a lot of people who work full time take their vacations during the National Show.
J.R. : Sandi, that is pretty good and this year I will go with you to the Nationals. Are you on the panel of AKC Judges?
Sandi : No. I am not an AKC approved Judge. I did not try for it. In fact many of my clients and friends tell me to apply for the Judge's license and it is not something I wanted to do. I love my breed and I actually enjoy judging other breeds. I have judged a lot of matches and sweeps for the other breeds. I really enjoy the ­all the herding breeds. I did have some shelties, collies and corgis. I have shown a few of them. But you know my first passion is being a breeder and this will always be my first passion. Judging takes away so much of your time. Nowadays with a lot of financial constraints the clubs wants to hire judges who can judge more breeds and group and it takes a lot of time to get to that point. I am not sure whether that is where I want to be.
J.R. : So you were talking about judging juniors at Kentucky ? Could you elaborate on that?
Sandi : The junior classes. That means I will be judging all futurity puppies that are from age 12 months to 18 months. This will be done just before the Nationals and we don't award points for this. It works like this. First you must be a member of DPCA to nominate your bitch before she whelps and then every puppy you are going to show has to be re-nominated individually before 4 months of age. And then that qualifies them to be judged at the Nationals under the futurity rules.
J.R. : In general people think that Dobermans are vicious why do you think such opinions exist?
Sandi : Because they were vicious when they were first brought to this country. Some of the Dobermans which come from Germany in the 1940's and 1950's, the handlers could not even put their hands on them. When I first started in this breed they were very tough. Times have changed and they have gotten softer.
J.R. : How do you define the temperament and character in Doberman?
Sandi : Well I think in the 60s the Dobermans were a lot tougher, but you did not see so many fear bitters and shy Dobermans. If the Doberman was threatened, he threatened you back and that's how Dobermans were. We in America kind of stopped that, I mean there were dogs, which were bred, which should not have been bred. I don't believe that the Dobermans should be vicious. I think in general most of the Dobermans have great temperaments and a lot of character and lots of personality. They are very intelligent, smart and they figure out people quickly and also they are great people dogs and they are very needy dogs. They are quite some characters and you see this 10-year female" Page" here, she in her younger days used to jump straight up in the air and grab birds out of the sky. The Dobermans can be very territorial and also very prey driven. They are high-energy dogs, very smart and they will surprise you with their intelligence. They always need something to do. They need to work in agility or obedience. Sometimes obedience alone is not enough to spend their energies, you have to work them in other ways keep them out of trouble.
J.R. : Do you think the breed standard is universal? Or, are there any differences between British, German or American Standards?
Sandi : Yes there are differences and they all read differently. I think we are closer than what some people give us credit for. I think that German breeding has a lot to offer and the British dogs are extremely good and that does not mean they are not faulty in places. But in general all of them are good compact dogs that you see. The dogs from Italy are doing some great winnings and the dogs from the Netherlands are good too. But in general we can say all of them are good compact dogs and are great Dobermans. But I also hear a lot of personal preferences when some buyers call me. They ask me whether mine are German breeding and frankly speaking these things should not matter so long we all try to breed the true Dobermans. Breeders in United States of America can help breeders in other countries and we could get a lot of help from them too. So I would like to see a more universal dog. I would like to see some of international breeding but it is kind of hard when you have to go across the oceans for breeding. But a good dog is a good dog whether it is American, German, British, Indian, and Russian or from wherever, he stands out in the ring.
J.R. : What do you think about cropping and docking of tails?
Sandi : I don't think a Doberman is Doberman unless he is docked and cropped. But I do get occasional calls where people want to buy a pet puppy just as a pet and wants them without cropping. Fine. I tell them they have to go to someone else because I refuse to let a Doberman out of this house without cropped ears or docked tails. Personally I don't like dogs with tails. Ear cropping yes it is expensive, it is time consuming and it can be a lot of trouble. You can have many problems with your ear crops. But that's what makes a real Doberman and I will say I will fight for my right to do that.
J.R. : Sandy the docking of tails and the ear cropping you do it or you go to the vet?
Sandi : I do the tails and the dewclaws myself and I have a vet Dr Ann Platt come in and crop the ears. She crops the earls for people all around the country and she goes out of this country to places like Hawaii , Brazil , and Canada . She specializes in ear cropping. Whenever I have a liter I call her and she flies in from Montana and in fact she is coming here next week to crop this liter I have now.
J.R. : So, at what age you do the cropping for the pups?
Sandi : We used to do it at 7 weeks but the administration becomes tough and so we do it around 8 or 9 weeks and I have done some as late as 12 weeks.
J.R. : Do you think from the Judging point of view the cropped dogs have an advantage in the show ring than the un-cropped ones?
Sandi : I think you don't see many un-cropped Dobermans in this country and yes; the un-cropped ones have a disadvantage. A dog will have to be extremely good for me to put it up over the cropped ears and if it is a superior dog it will still wins. But I would rather see a dog with cropped ears.
J.R. : Do you think they are just cosmetic surgeries on they have some values for the dogs?
Sandi : I think it definitely adds value to the dog and original purpose of cropping the ears or docking the tails is to avoid the bad guys or the bad dogs or any predators getting hold of the dog by the ears or the tail. And by cropping ears you don't find much ear problems and ear infections in Dobermans because the ears are not hanging down and not letting the air, so there is no damage. Many dogs have lean longer tails and sometimes you find them hitting against the furniture resulting in tail injuries and sometimes fracture too.
J.R. : What advise you would like to offer for someone who wants to enter the dog show game with Doberman?
Sandi : The first advice should be to buy the best that you can. Go to dog shows watch the Dobermans and talk to the breeders. One should not get discouraged because here in this country it is so tough competition out there with professional handlers doing their best. Train your puppy from young age and take your puppy to visit other people and strange places. One thing I do here is every puppy before going to the ring, goes and stays either at a friend's house or the handler's house for minimum of two weeks and learns how to be away from mommy and their home.
J.R. : What advise you want to give the novice breeders and if they are looking for help are you willing to help them?
Sandi : I help people all the time. I have other breeders who call me and talk to me about their problems with their dogs or the newborn. I like helping people.
J.R. : Can you tell us about your current stocks and about what you have to offer for people who may be interested?
Sandi : I am very happy with the temperament and health situations of my dogs I have right now. Sometimes we all got to step away and see what honestly we have and what you can do to improve it. Most of the puppies you are going to sell and I think about 70 to 80% of the puppies you sell will be going to the pet homes with family and children. I don't want to get a call from any of these people saying that their 3 years old Doberman dropped dead in their back yard and the kids are standing there and screaming. I think this is a real issue to every body and I get upset when people consciously breed to dogs that have these kinds of health problems. I will give up the beauty to health and soundness. Soundness has always been very important to me. Soundness of mind and body makes a good dog. Doberman has to be a powerful dog with good structure and proper muscle tone with good bones.
I have about 10 dogs, I co own more. In the house I have 8 dogs out ofwhich 6 dogs are champions, one dog is not a champion because of a leg injuryit never finished the championship. The last one is a young dog I have not started it yet. Basically they all go back someway to the Teller of Tales. I have a couple of Cambria 's Cactus Cash kids. I have one fawn and in 35 years of showing and breeding I never had a fawn and I was quite surprised when I got this one. She is a champion. We did not showing her every weekend that is we only showed her on and off. I really don't know where I am going with her. She is only 2 1/12 years and I could breed her some time next year.
I have two puppies out of my' Besame' bitch and this bitch I co own with Mary Rodgers. She is Repoman's half sister by their mother Penny (Ch Marienburg's coral pendant). "Besame's" sire is Skeeter (American Ch Cara's Skeeter) and she is what you think of brood bitch should be with big huge bones, nice substance, beautiful head, good top line, good muscle tone and wonderful coat. Good moving, she is just a big sound bitch, she is red and she has the best coat I have seen on a Doberman. It is so thick and so dark and the markings are so good. This time she was bred to my dog CH BRUDA I'm A HUNTER MAN AND he is out of AMCH CAMBRIA'S CACTUS CASH AND his mother is AM CH BRUDA'S Janna Banana Republic and who goes back to my Teller dog. She is a Teller grand daughter. So I kept two puppies in that liter, a male and a female. I might sell the male because I am having too many males. These two are 4 months old. I thin k these two have great potentials and the male puppy may be a special, a group winner or a Best in show winner. I think he has that potential. He is very sound on his feet. He has got that attitude" look at me I am the star". They have to have that attitude and think they are better than everybody else, all the puppies in the world. They just go out there and flash, he has got that. The girl does not have that and I wish she had that but she is more the kind of a mommy's girl. But she will be a show dog. I have another litter right now it is out of AM CH Bruda Matter of Honor. THIS IS THE DAM, (pointing out to Matty), She one of the best Mama dogs I have ever had and she wants to be with the liter all the time, nursing them and the pups are 7 weeks old. She still wants to take care of them. She is a great mother. They are sired by AM CH Prefix Cat of Nine. There are 6 pups. They are all sold except the one dog and a bitch, which I am retaining.
J.R. : Your kennel name 'BRUDA' how did you come with this name and what does it signifies?
Sandi : It is very simple. When we got our first Doberman the breeders told us that we could name our dog and my husband who was not a dog person but a horse person, he wanted to call her Missy but I never liked that name because it was very common. Then I thought that I would call it Bonnie Miss. I had a girlfriend who was a German teacher at the high school and I asked her to give me some names and she gave me a bunch of names, one of them was BRUDA. That is how I came up with the name. . I think BRUNO denotes the male and Bruda denotes the female. Thus my first Doberman became Bruda Bonnie Miss.
J.R. : Could you tell us about your breeding techniques? Do you believe in line breeding as well as in breeding?
Sandi : I have big opinions on line breeding, inbreeding and out crosses. Trust me I am not an expert on genetics but I know what works for me over the years and what has worked for other people. Sometimes all the three can produce good results and at the same time some accidental breeding can also bring tremendous results. Sometimes it is a gamble. But in general I do really believe in all 3. I have not done a great deal of inbreeding, like daughter to fathers, I have never done. I prefer the dogs to be complementary to each other and I have done some extremely tight line breeding, it was almost inbreeding. There are certain faults I will tolerate in my dogs but will always try to eliminate them in subsequent breeding. For instance I will not tolerate a roachy top line and I prefer tight level top line. That is my ideal. But in my experience once you have a roach in the top line, when you breed this bitch some of the puppies are bound to have this top line. Some of my top winning and producing dogs are all tightly line bred and gone back to a lot of half brother half sister breeding and took those puppies back to another half brother half sister breeding and in doing so combining certain bloodlines, One of the most success was my bitch PAGE. She was out of half-sister half brother breeding and her father was also a half brother half sister breeding. I bred those two dogs together and that resulted in her. See you got to take chances too. You have to move on. Don't get struck with something. Sometimes you have to bite the bullet. Once you know what you have is not the right stocks get rid of them and start fresh. This is what I can tell a young aspiring breeder.
J. R. : With so many dogs how do you, manage your kennels? Do you have any assistant to help you? What kind of exercises you give your dog?
Sandi : I am a retired teamster, so I have a wonderful pension. So I am able to attend to dogs, full time. I am out in the country so there are no complaints about dogs from neighbors. I try to keep under 10 dogs. I have a half acre fenced area in grass and dogs get exercised there plus 7 gravel pens 10 x 30 and 20 x 30 On good weather days all the dogs are out from 7 am to 7 pm. All my dogs are crate trained and generally they are quite inside the house. At this point of time I am attending sick family members and on those days I have a dog caretaker who comes in to help and she charges me by hour. Yes, it is a tiring job and especially when you have a liter it is a lot more work. Sometimes you might have to get up in the middle of the night, you never know~ As far as the exercising is concerned, I go with the individual dog's needs. Even among the show dogs, some dogs may require more work in comparison with the others. For instance, last year I had a young dog Hunter in the show circuit. He was so hard bodied I had to restrict his exercising. If you put him out he will run so hard that his muscles will come out like Arnold Schwarzenegger, like a body builder and his movement will be restrictive. He will be too muscled. Some other dogs, I used to bring them here and bicycle them. Most of the dogs did not need the bicycling because they all had hard bodies with good muscle tone and this has been one of the important things in my breeding program, which I got from Dexter dog.
J.R. : You live in the countryside? So how far is the nearest vet?
Sandi : 30 to 45 minutes from here either way. I do a lot of home care. I do all the shots except rabies. Like I do all the basics but anything serious I certain go to the vet.
J.R. : Do you have any mentor or guide in the field of dogs and if so can you share something about this person and how he/she had influenced you in developing your kennels?
Sandi : No doubt Mary Rodgers has to be the biggest influence in my life as far as dogs go. I find that I am a very open minded person and I try to appreciate everything in every dog and I hate people who only find faults in dogs. Almost every dog in the ring you can find some good points and you need to appreciate that. Mary has helped me so much and I have a lot of respect and admiration for her. She minds her own business and she does what she wants to do and I pretty much try to do the same thing. She has been a big influence on me and there are some other people with other breeds who helped me to get started and I am thankful to all of them. My friend Cheri Holmes is a great source of knowledge to me and I respect her a lot and I value her opinions. She is a Doberman breeder HOLMRUN Dobermans from Canada . There are so many people who have influenced me.
J. R. : Have you ever kept any other breeds apart from Dobermans?
Sandi : Yes I have. I started with a poodle. When I was in California , I had a couple of them. In the dogs I co owned some toy poodles were there and I also had a top winning silver poodle. Then I raised some silkies for a while and raised some minpins for a friend when I was in California . Recently here at Illinois I raised some shelties and finished one. The other one got kicked by a horse broke her leg and she will never finish now. I had some corgis too. My vet has some and I have shown some of them and they are great dogs, I love them; I have shown some collies.
J. R. : We all know, no dog is going to last a human life and we all lose our dogs due to old age and may be diseases and how do you cope up with this? Especially a kennel like yours, where each and every dog is an asset in the breeding program and how do you compensate the loss of these valuable animals?
Sandi : I tell you I love every dog in this house. I get attached so much to dogs even if they are 2 or 3 years old when they come to me. I was devastated whey I lost Penny, Repoman's mother and they are all individual personality and it really pains when you lose them. My Paige now is 10 plus and I pray to God that she stays in healthy shape. You know sometimes it is more than what you can almost cope with and yes you have got to go on and you have to move on in life. Yes when I lose a dog his value is lost whether a stud dog or a brood bitch. It is really devastating and the fact that with Repoman's mother I had only two liters. Of course we did not breed her until into her late years and we skipped a year too and we tried several times to repeat RP and Sundae litter and we tried twice with artificial inseminations but never had any puppies. It just it did not happen. So this sets you back and there is no doubt about it. But you just have to go on from there and there is nothing you can do about it. When you lose them you lose them for whatever reasons and sometimes when you lose them for health reasons then you get to study the problems more close. You may think your dog is your best friend, your child or whatever and it may be the best dog you ever bred but if it has got a health problem you should not be breeding it anyhow. If it dies at a young age then it is pretty natural because dogs catches disease and sometime meet with accidents too and die young then too it is unbearable. Wherever you have health issues you got to be careful and see that you do not breed that line.
J.R. : What kind of diet you give your dogs?
Sandi : I give commercial dog foods, I give Proplan and it is extremely expensive and it is almost a dollar a pound now. So I use this for dogs that need it and to whelping bitches and the puppies. I have another food, which is relatively cheaper compared to Proplan, and I supplement this food, which they get daily. It helps their coat and keeps the shine. I give more to the fawn bitch because she is on thyroid and she needs more to keep her coat in condition and she also gets zinc in her food. Dogs get their food twice a day between 6 and 7 in the morning and then between 5 & 6 in the night. Every dog gets fed in the dog cage and in that way you don't have anybody stealing or intimidating. I do feed raw meat too at times, sometimes I feed them veggies too and sometimes I give natural bones too. I do get them the animal breads and it is dollar a bag. It is a huge bag and it has white bread, wheat bread and all different kinds of bread. These dogs love it as treat.
J.R. : When do you wean your pups away from the dam?
Sandi : You know if you talk to most of the Doberman breeders in this country they will say that all the pups should be weaned by 4 weeks. I think they are too young. Personally I think we need to start feeding them at 4 weeks. We start giving the baby food and also the food mother is on. I take the puppy food, soak for a good amount of time. Sometimes I put meat in it and add goat's milk. I let the mother decide when she is done with weaning. I have some bitches that once you start feeding the puppies they almost stop nursing the pups. But still I send them into the whelping box once or twice a day to give the puppies a little bit nursing time and just have their mother around. Now Maddy here she is an exception. If I let her in she still wants to nurse the pups even though they are 7 or 8 weeks old, but she is pretty much dried up. You know the other day Maddy was with the pups and they were jumping and climbing all over her and she turned around and snapped at one of them. You see these are some initial lessons the pups will learn from their mother not to bite the alpha of the pack. I would say, I would wait at least up to 5 weeks to wean. As I said in most of the cases I allow the mother to make the decision. She needs to be around to correct them and to make them better puppies. They learn so much from the mother.
J. R. : Have you faced any specific problems in whelping and if so can you share it for the benefit of the dog lovers?
Sandi : I have had many problems over the years. Like some bitches just won't go into whelp. Before breeding one need to do a thorough check up of the bitch to make sure there are no blocks in the birth canal. Years back I had a bitch which when mated would not go into a tie but she did get pregnant .She could not deliver her puppies and the puppies died before we could do a c-section. You can have a lot of problems in whelping so you have got to prepare yourself for any kind of emergencies. There is a great piece of advice I can give to novice breeders that a Doberman should not be bred late say at 5 or 6 yeas for the first time. You'd breed the bitch at 2 or 3 years even if you want to show the bitch. You can always come back and show her like I did for a bitch. She was brought back to the show ring after a litter and she finished championship. Of course sometimes you will find some bitches lose their condition after whelping and they may not return to the show trim. The other thing is we must allow the bitch to do her job while whelping and we should not help too much unless it is really necessary. We should provide safer environment for the mother away from all the other dogs and area which is not noisy.
J.R. : What is your favorite color in Dobermans? Do you think the color, makes the difference in the show ring?
Sandi : My favorite color is red. When I first started out all I wanted was black. But I think that most novices and beginners think that the Doberman is black and tan. I personally like the red. I think they have more character and I love the red coats and they are easier to win with. You can give me a red bitch and a black bitch of equal quality and the red bitch will beat it most of the times. Now if you ask me why I do not know and most people are fond of black but for some reasons reds are easier to finish.. I do not know whether it is to do with the quality or whatever but most of the big winners are reds. You know the Cryptonite dog and Indy the famous red bitch. I had someone say to me at a show ring, " hey Sandi, I feel sorry for you because all your dogs are red and they are always in the last class and by the time the handler gets to the red class it is a kind of hard for your handlers to win another class. I told her don't feel sorry for me I finish more dogs in a year than you have in your life. You see I finished 7 this year and most of them are red. But at one point I pretty much had 10 dogs and 8 of them were red you know and right now I have mostly black and I am getting back to my reds. All the other things being equal, the easiest thing to finish is a good red male.
J. R. : What do you think about the rare colors in Dobermans like fawn and blue? What is your experience?
Sandi : I have one fawn now and the only reason why she is still here is because I am afraid to let her go. I am extremely worried about her coat and they need so much more care. She is quite a character and I just love her. I don't know when I am going to have another. In all my 35 years of breeding this is the first fawn and I never had a blue in my breeding. There have been some great dogs in blue and fawn colors and personally I did not want another fawn mainly because of the coat and health issues.
J. R. : How do you think these colors have come in this breed?
Sandi : Well it is a dilution factor the four colors have always been there. The fawn is a dilution of the red and the blue is the dilution of the black. The blues and fawns do have more coat problems. They can be in different degrees and I have a friend who has some blue Dobermans and they have wonderful coats and she does not have any problems.
J. R. : You finished the fawn bitch so tell me about her show experience did she finish easily or did you have problems?
Sandi : We had a lot of judges who looked at her and said I love her, she is beautiful but I am not putting a fawn up. I even had a AKC licensed Judge tell me that she was not so sure whether this was an acceptable color and I did tell her to please read the standards. Then I had another Judge tell me she didn't know whether her coat was right. I told her any time a fawn has a coat it's right.
J. R. : How would you describe the ideal Doberman? Of course the standards are there but we would like to know your views on the ideal Doberman?
Sandi : In my mind a Doberman is a medium sized dog of any color of course as per standard. It should have dark eyes, dark markings, good angles, hard top line, good neck placement, and has to move properly and also the dog has to have a Doberman attitude. The dog should neither be timid nor shy. Must have eagerness and willingness to please. He must be a confident dog and the temperament should denote that they are happy animals. The other important thing is that apart from good structure their muscle and skin should fit them. They should have adequate muscle I hate touchy Dobermans without muscles. A Doberman should be a strong animal with rippling muscles. So my idea of Doberman has got great texture of skin and bone and muscles. Very sound all over. So that is my idea of a Doberman.
J. R. : So far in all your winnings which one you cherish most and the reason for it?
Sandi : I think winning Best of breed with Teller at Westminster was probably a real highlight of my life. That was in 1990 Westminster winning at the Madison square garden was a big deal. I have won best futurity pup at the Nationals and I got an award of merit last year that was pretty exciting. RP has won several great wins and that is probably too many to count. You know the first real big win has to be Teller winning the best of breed at Westminster.
J.R. : Sandy right now I want to take you back in memory lane to the Westminster where Teller won the best of breed? I don't know whether you were showing the dog or the handler? So please tell the readers about that winning experience.
Sandi : To tell you the truth I did not go. I had to stay home and work. The handler Andy was showing the dog and may be there were 15 or 20 Dobermans but there were some great dogs back then like the Cryptonite dog was there. I don't remember all of the top dogs which Teller beat that day. I was sitting at work when I got a call and my boss told me that I had a collect call from New York and he wanted to know whether I would accept it. I said yes and it was Andy the handler who said that Teller had won the breed at Westminster . And that was wonderful. I will always remember that (at that point she had tears in her eyes).
J.R. : So what happened at the next stage, did he win the group?
Sandi : He did very well at the group. It was a tuff group and he was a very young dog and the commentators said that this is a great young dog and we will see more of him.
J. R. : Do you show your dogs more on the specialty shows or the all breed shows?
Sandi : It depends on the dogs. There are certain dogs you wanted to show them at specialty where a breeder Judges the Dobermans and most of the time getting into the specialty is not easy and so we show a lot in the all breeds show.
J. R. : How much you value pedigrees when you breed your dogs?
Sandi : Yes I do but most of the pedigrees are in my head and so I don't sit with a piece of paper and analyze. So being around for as long as I have been I remember a lot of these dogs and most of these dogs I can go back to 5 to 6 generations on their pedigree. Most of them I knew and had my hands on them. I may not have had my hands on all of them but at least I will know what they were like and what their parents were like and yes I do value pedigree a lot.
J.R. : Do you read a lot of materials and read books and magazines on Dobermans?
Sandi : Yes I have but I feel guilty that I have not kept up with that in recent times because my life has taken a new turn recently. I have to slow down a little bit because I have some personal health problems in my family. So taking care of my place and my dogs is all that I can do and I don't have too much time to read.
J. R. : The Doberman is a working dog and do you feel all these show champions are capable of performing their duties as a working dog?
Sandi : No. Most of them cannot. You go out there and you see dogs that are out at elbows and weak in the pasterns and almost crippled. They are called champions. A good example is some of the top 20 dogs, they go around the ring and the handlers run really fast while people say 'Wow look at that dog go" but if you closely watch the foot placement, these dogs are doing overtime just going around the ring and would never last if it had a job. It is true about working dogs they work 10 to 12 hours a day and most of these dogs could not make it. Either they will not have the muscle capacity or the structure. They will not last even 6 to 8 hours. I think people should pay more attention to the working capacities and not so much attention to the beauty and they need to look for soundness in the animal.
J.R. : There is also a school of thought that the Dobermans are one-man dogs and they are not for everyone, what do you say about it?
Sandi : I agree. I have seen some Dobermans that would only allow their owners to pet them, feed them and take care of them. I don't think that is so much anymore. I don't think everyone should own a Doberman like I said earlier sometime the Dobermans are smarter than their owners. With the Doberman if you give an inch it will take a mile.
J.R. : Do you think the Dobermans are the most intelligent of all the breeds?
Sandi : I don't know. But I think they are pretty intelligence and I had some Dobermans who could do almost everything that you can think of from a dog. I had a female dog which was watching some cattle dogs herding cows and just started barking and jumping up and down. I asked the people with cattle, if my dog could go out with them. They said not a Doberman they are not herding dogs. I sent her out in the field and she knew what exactly to do without being told. Later that day they had a cow down and the cattle dogs could not get her up I brought my Doberman out and she got the cow back up on her feet. Those people have had Dobermans every since. I had other dogs when I used to raise pigeons that would point the pigeon's home. There has been two times one of my dogs have saved their family lives when their homes were on fire. So I think Dobermans are pretty smart dogs. I don't know whether they are the smartest.
J.R. : Sandy You must be sending some dogs to other countries., So do you keep in touch with the owners and do you follow up that dog's show career in that country?
Sandi : I don't communicate a lot but I do stay in touch with people. I am not a big letter writer but I do send e mails and in a minute you are in touch with people whether it is Japan India or anywhere in the globe. We are able to exchange dog pictures. I don't have a problem in talking to people in most of the countries and sending them dogs too if they want it. I have a lot of respect for people who are genuinely interested in developing Dobermans in their country and if I am asked for help I will be very glad to help them.
J.R. : Do you write any articles to Dog Magazines?
Sandi : No I am not a writer and that's not my cup of tea. Doberman Digest did an interview and I just express my feelings and talk about my experience with this wonderful breed the Dobermans.
J.R. : How do you rate the dogs in the show ring in comparison with other breeds? Are Dobermans flashy dogs in the ring and so easy to win with?
Sandi : Yes and No. I think the overall quality of Dobermans is pretty good in different parts of the country. It varies in different times; you know different periods say every 4 to 5 years dogs do change. There are other good dogs in other breeds too. I think some of the best winning dogs come from terrier group and some from the sporting group. I just stand there in amazement looking at some of them, the conformity they have and I think we do not lack the conformity in Dobermans. Dobermans are real flashy dogs and they do a lot of big winnings and that goes in streaks.
J.R. : Do you think that you have achieved all your goals with reference to the Dobermans?
Sandi : No I have not. I will never achieve all my goals. I think I did better than may be what I expected to do but not as good as I like to. If I stop working to achieve my goals then I become stagnant and you do not improve. It is all about improving. You see so many people with some good dogs but it is only few people who constantly year after year keep producing great dogs and that's what I want to be doing.
J.R. : What do you think is going to be the future for BRUDA DOBERMANS in next 5 to 10 years?
Sandi : First thing I am going to slow down a little bit but I would like to breed another great dog, a great stud dog, and a great show dog. Next thing I am not sure whether I want to have as big a place as I have now and may be have someone to share the work with me especially helping me raising puppies; which is one of my biggest joys in life. As I told you I finished 7 dogs this year and with the high entry fees, and handlers fees which almost around $100 a show, if you are showing two or three dogs at a time and you are talking about 2 day weekend and it is costing $250 to $ 300 a dog and I don't have the ability to do that. It is very expensive.
J.R. : So over the years you have completed championship on many of your dogs and also others who bought from you would have finished many dogs. Do you have an actual count of how many champions you have made so far? Do you think it would well over 50?
Sandi : Yes easily 50. I don't know the exact numbers. I don't have the numbers in comparison to some other big breeders but as I told you I started out very late. In most of this 35 years of my breeding I have been in a full time job and probably I was breeding may be a liter or two in two years. I think in the recent years I have finished more number of dogs than in the past. I don't know whether I will touch the 100 mark. Probably I would have said yes, if I was young enough but I have done what I wanted to do and I think I am pleased with the stock I have. I have had some disappointments too. Like some good dogs which were almost finished but people gave up on them and some times dogs got hurt and could not be finished.
J.R : Thank you Sandi for giving me your valuable time for this interview and I really enjoyed listening to you. I am sure all our readers are going to find this very interesting and useful for them. I once again thank you on behalf of Indian Kennel Gazette.